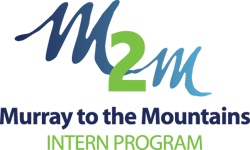 Folder

Application Process & Information for Interns
How to apply to be a Murray to the Mountains Intern.
About us
The aim of the M2M experience is for the interns to:
maximize their exposure to generalist medicine;
experience high levels of hands-on clinical experience & training
experience medicine in a variety of settings – ambulatory, hospital and residential care;
have core rotations of 10 weeks in surgery, medicine and emergency medicine in the Hume region;
be the patient's first contact and follow the patient journey;
have the opportunity to work in rurally based procedural general practice and small rural teaching services for 20 weeks;
participate in parallel consulting;
be exposed to sports medicine through working in the ski fields or water sports along the Murray River;
access a high quality education program that includes grand rounds, clinical review meetings, medical meetings geriatric & paediatric education sessions and skills workshops;
be provided with opportunities for procedural based career pathways at PGY 2, 3 & 4 level;
be supported in their career aspirations.
Conditions of Employment
Conditions of employment are based on the terms and conditions of the Victorian Public Health Sector -Doctors in Training Enterprise Agreement 2018-2021.
Education Program
The Murray to the Mountains Intern Program has a comprehensive education program including skills workshops, paediatric and geriatric video conference education sessions, grand rounds and clinical reviews. The Murray to the Mountains Intern Program has an experienced Director of Clinical Training (DCT).
Interns receive an intensive one week orientation program.
Murray to the Mountains Intern Program: Intern Applications
For information on how to apply to the PMCV for the Murray to the Mountains, please go to https://www.pmcv.com.au/intern-2021-info