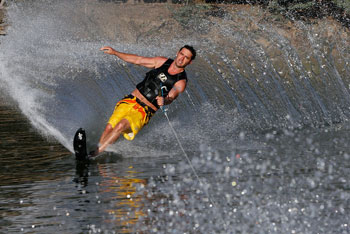 In 2011, the Murray to the Mountains (M2M) health services originally comprised Cobram District Health, Numurkah District Health Service and Yarrawonga Health in Moira Shire and Alpine Health (Myrtleford and Mount Beauty campuses) in Alpine Shire. Other health services have since joined the Program and in 2014 this list now includes Nathalia District Hospital, Benalla Health and Alpine Health Bright campus.
The overall aim of M2M is to increase the number and capability of rural doctors by providing a comprehensive training program for PGY1 (interns) and PGY2 medical graduates and an expanded training capacity for practising rural doctors to assist them in obtaining additional skills.
Traditionally, interns obtain posts in 'parent hospitals' - major metropolitan and some major regional hospitals. Each parent hospital has responsibility for rostering interns to cover rotations available at the parent hospital as well as at rotation sites. Each rotation is normally between 8 and 11 weeks duration although variations may be negotiated to accommodate the needs of rural hospitals. The year involves 48 weeks of supervised clinical experience that includes three core terms (medicine, surgery and emergency medicine) and non-core rotations that provide an opportunity to explore additional areas of medicine and surgery, anaesthesia, psychiatry, and less acute care such as rehabilitation medicine, palliative care and geriatrics, and general practice. Each parent hospital has links to rural or regional hospitals and some offer a general practice rotation.
The challenge for the Murray to the Mountains (M2M) intern program was to develop a model that met all Australia Curriculum Framework for Junior Doctors requirements while ensuring a "true" rural medical experience. These experiences include large and small rural hospital exposure, delivering specialist services from small rural hospitals and working as a general practitioner in rural communities.
In 2009 an Implementation committee was formed including members representing the following organisations:
Numurkah District Health Service
Yarrawonga Health
Cobram District Health
Alpine Health
Nathalia District Hospital
Albury Wodonga Health
Northeast Health Wangaratta
Bogong Regional Training Network
A comprehensive M2M intern model was developed including:
10 week surgical and medical rotations at Northeast Health Wangaratta
10 week emergency rotation at Albury Wodonga Health
20 weeks community rotation at either Cobram, Mt Beauty, Yarrawonga or Numurkah general practices and health services
A comprehensive skills workshop, grand round and medical staff education meetings program
A funding proposal was submitted to the Victorian Department of Health in 2009.
In 2010 the Victorian Department of Health granted funding for five M2M interns for 2012 and 2013.
The M2M program entered the Post Medical Council Victoria intern match process in May 2011 completing the match and interview process in August 2011. The M2M program filled all 5 intern positions in September 2011.
On the 9th January 2012 the vision of the Moira Health services was realised and the five inaugural M2M interns commenced orientation week.